With 97% of the Worlds email communications being reported as SPAM it's not surprising that whenever you mention the word spam. People no longer think about that little canned food product but instead of the wasteful and distasteful emails arriving in our email folders every single morning. Interestingly a surprising amount of companies choose to just ignore the problem than deal with it. The issue however is they don't actually know how much it's costing them. If you start to think about it, we know that it takes around 5 seconds to delete a spam email. We can average actual statistics on how many emails the average person receives. We can choose an average area-based salary and before you know it we can very easily calculate almost exactly how much per individual it costs just to read and delete an email.
We ran an exercise through a resource calculator based on a typical SME of 10 employees that showed:
10 Employees receiving 50 emails a day with 40% being spam related; costs, per individual £ 170.00 per year and 10 hours of lost productivity.
That's £ 1,700.00 a year wasted on processes that can be avoided. Not to mention the additional productivity gained from having a server processing data faster and increased quicker broadband too.

Bandwidth Enhancement
If between 70% – 99% of all emails coming to your server, down your broadband line are SPAM then they're using useful amounts of the broadband service you are paying for and slowing down your network unnecessarily.
See below the data we collected with one of our customers: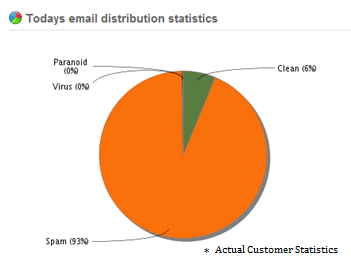 Call Kris today for more information about how you can save money and to request a two week trial.